Managing Plantation Operations
From Establishment through Maintenance to Harvesting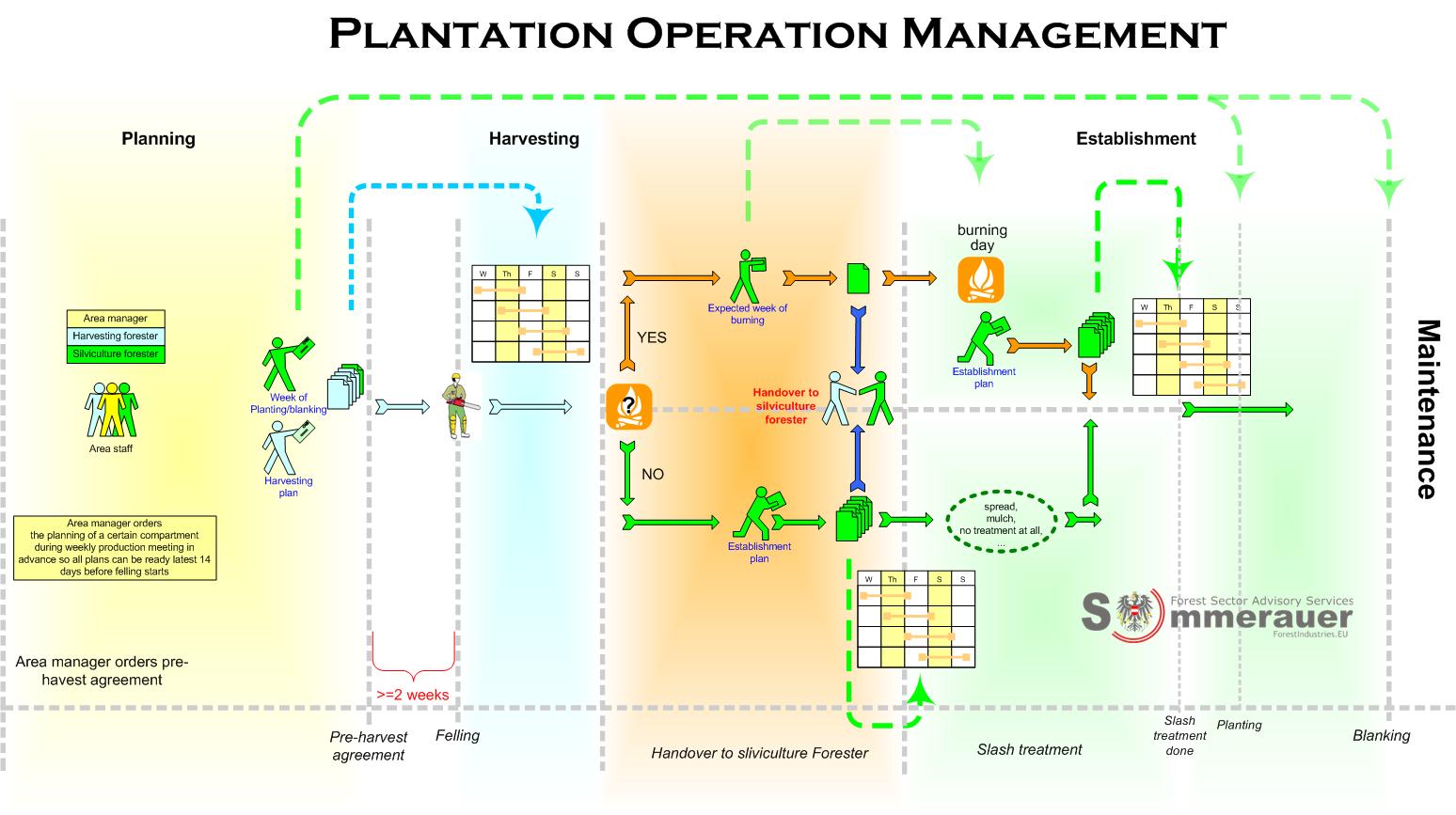 Operations management is concerned with managing the resources that directly produce the organization's service or product. The resources will usually consist of people, materials, technology and information but may go wider than this. These resources are brought together by a series of processes so that they are utilized to deliver the primary service or product of the organization. Thus, operations is concerned with managing inputs (resources) through transformation processes to deliver outputs (service or products).
Planning, controling, monitoring and post-costing of any plantation operation is essetial to any forest plantation management system.
We have therefore developed a sophisticated managment system - which gives any forest plantation operator the opportunity to improve any of his operational tasks.
The process includes
Establishment - Maintenance- Havesting
and measures DAILY productivity of all in-field, primary transport and depot operations. Management will therefore get exhaustive information about all relevant productivity measures on a daily base (tons over weightbridge measures remain but will play aless important information role).
Our Operations Planning System is build up by following three main parts:
Execution Planning
Montioring
Post Execution Costing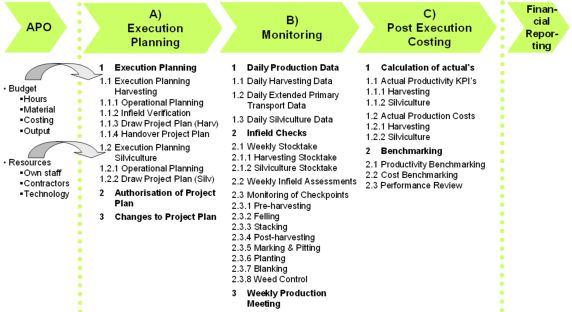 Main objectives of our system are:
Increase transparency
Make operations information visible to management on different levels to enable fact based management of the overall value chain
Eliminate obvious inefficiencies that are covered by current intransparency
Standardize and simplify
Provide a format that enables easy understanding of available information in operations for everybody  
Close gaps in tight controlling of contractors
Assurance that customer receives the services that are paid for in every operation
Assurance that service providers are competitive regarding performance and prices
Improve knowledge base on ongoing operations
Enable better understanding of supplier's business
Make knowledge transfer easier based on standard terminology
Improve overall fact base with regard to operations to enable more and better informed decision making  
Reward individual performance
Base performance management on standardized and measurable performance indicators
Reduce costs
Use all of the above to continuously increase efficiency of operations with the target to reduce operating costs