Forest Certification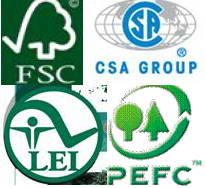 "Eco- labeling programs have become very prominent in many countries.
Today this environmental policy innovation can be found not only in OECD countries but also in developing countries. Although eco- labels should be seen as a complement to, rather than a substitute for, traditional regulatory instruments (Harrison 1999: 110), it can be assumed that these environmental policy instruments will become more important for environmental policy in the near future."
We do have comprehensive knowledge in forest certification implementation as we are engaged in managing a FSC and PEFC certified small scale forest owner association since 1998. The association got its FSC certificate in 2003 and it was our task to challenge and support the forest owners up from the beginning.
More than five years of experience in FSC certification enables us to offer following FSC certification support services to our customers:
Tendering and auditor selection procedure support
Contract negotiation support
Main audit support
Annual surveillance audit support
Arbitration process support
Spotaudit support
Mediation support
Besides services bound to formalized FSC procedures we provide any type of compliance support services to our customers:
Pre-conditioning in all kinds of post-certification constraints
FSC forest management support
Development of FSC management manual
Staff training in FSC management
Sustainable forest management awareness conditioning
Internal audit group management (including establishment)
Having successfuly handled and managed a quite heterogeneous small scale forest owner group for the last five years demonstrates our proficiency in supporting any task of FSC certification.
---------------
In 2003 this association was the first FSC certified goup in Austria. Recently the group is still the only cross border FSC certified small scale forest owner association in the world. Forest owners of this group are situated in Austria as well as in Germany.
Read more regarding the Forest Owner Association: Forest Owner Association Weilhart