Economic woes may damage moves to slow deforestation
KUALA LUMPUR/JAKARTA, April 29 (Reuters) - Growing economic pain may increasingly force consumers to turn to palm oil, one of the cheapest cooking oils, a move that could scupper nascent plans to slow deforestation in Southeast Asia.
With rising output in Indonesia, the world's biggest palm oil producer and home to the eighth largest expanse of forests, and tight land supplies in Malaysia, the world's second largest supplier, conservation's economics look even less appealing. Under a United Nations scheme to slow deforestation, countries that preserve forests could be paid up to $2,077.50 per hectare, but that compares with the $4,826.11 per hectare that could be earned at current prices on a well-managed palm estate, Reuters calculations showed.
The UN plan, called the Reduced Emissions from Deforestation and Degradation (REDD), was supposed to allow investors to buy carbon credits and bring in $10 billion to $30 billion yearly to over 60 developing nations with forests."REDD has no chance. Malaysian palm oil yields are high and better estate management is key," said an official with a listed Malaysian planter with holdings in Indonesia as well as Malaysia, who declined to be named due to the sensitivity of the issue.
"Even in Indonesia, which many thought would revert back to keeping forests, yields are going up and above the usual 3-4 tonnes because Malaysians are buying up these estates and Indonesian companies are developing very fast," he said.
Last month, environmental lobby group Greenpeace accused Indonesian planter Sinar Mas (SMAR.JK) of cutting down virgin forest, sparking an angry denial from the company.
Even companies that use degraded farm land say that the economics of palm and growing demand mean that there is simply no choice but to expand.
"It's hard to resist expansion when (palm oil) prices go up," said Velayuthan Tan, chief executive of Malaysia-listed IJM Plantations (IJMP.KL), which bought land in Indonesia last week.
"It would be suicide to buy up and clear forests so we bought some degraded agriculture land in Sumatra (island)," he said.
STILL PROFITABLE
Current palm prices of 2,464 Malaysian ringgit ($686) a tonne, although still way below their $1,239 record peak hit in 2008, are 77 percent more than the costs involved in setting up a new palm oil estate.
This means planters can quickly recoup their initial outlay of $22,000 per hectare that officials in Malaysia and Indonesia say is needed to clear forests, grow oil palms and put up mills once the palms have matured three years from planting.
REDD credits are only traded on the Chicago Climate Exchange (www.chicagoclimatex.com) where prices of $1.50 per tonne of CO2 are at a more than 80 percent discount to benchmark European carbon prices of 13.61 euros ($17.74) CFI2Z9.
"Demand for REDD credits today is on a voluntary or speculative basis," said Suzanne Chew, senior broker with Singapore-based emissions trading firm TFS Green.
"In general the regulatory and project risks involved are higher compared to credits from approved methodologies under the Kyoto Protocol, that's why there's a significant discount in the price," she said.
For a graphic on palm oil and REDD earnings from a hectare of land, click here
CONVERTING FORESTS "BY DESIGN"
Indonesia has defended forest clearing for palm oil, saying high conservation value forests are being left alone as it prepares to boost oil palm estates by 125 percent to 18 million hectares (45 million acres) by opening up more forests.
"If we convert forests, it is something by design," said Achma Mangga Barani, plantations director-general at the agriculture ministry, although he did not give a time frame for the palm planting.
So far, despite promises, Indonesia's decree on implementing REDD is still at the draft stage and focuses only on how the government can benefit from carbon investment, says Greenpeace.
"The draft decree just does not explain how to stop deforestation," said Bustar Maitar, team leader of Greenpeace Southeast Asia's forest campaign.
Indonesia has 88 million hectares of forests and recorded the second biggest net loss of forest cover during 2000-2005 at 1.5 million hectares annually, 2005 data from the Food and Agriculture Organisation showed.
Palm-driven deforestation has accelerated as Indonesia's planters and foreign firms rushed to increase estates during a two-year price rally from 2007, more than doubling the expansion rate to 1 million hectares a year from the 400,000 hectares norm.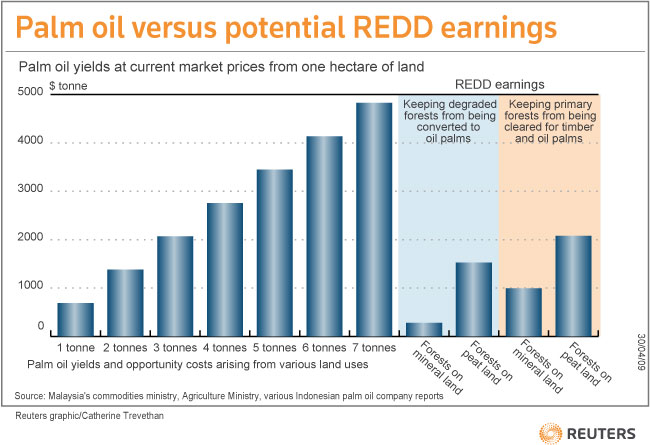 ILLEGAL OIL PALMS
Malaysia has 100,000 hectares left for expanding palm oil plantations without touching forest to add to existing 4.5 million hectares under oil palms.
Even so, wildlife officials say that there is significant illegal encroachment into Malaysia's 14.3 million hectares of forests.
Much of this happens in Sabah state on Borneo island, the country's top palm oil producing region with large tracts of pristine forests where officials say that small palm companies have illegally cut down trees.
That process might now accelerate as people lose their jobs as the global economy slows.
"The recession is a worry. Companies might shift priorities to saving themselves first. There could be less interest in carbon credits, conservation schemes and reforestation plans that we have in place," said Sam Mannan, director of the forestry department in Sabah.
It is less than clear how the billions of dollars under REDD could trickle down to poor people who have few economic alternatives than to try and clear a small patch of jungle to feed and house their families.
"God has given us ample land and oil palms and we should make use of it," said Munir, an Indonesian worker in a plantation in central Malaysia who wants to use his savings to set up a small estate in his hometown in Kalimantan on Borneo island.
"I am suspicious of this (forest saving) scheme. I don't think I will see the money from it. It is more honest to work the land on your own and the government in Indonesia encourages us," said Munir, who goes by one name like many Indonesians. ($1=.7674 Euro) ($1=3.595 Malaysian Ringgit) (Additional reporting by Ed Davies; Editing by David Chance and Sambit Mohanty)