Germany backs growth of Lao forestry
Germany has given Laos further grant aid of 6 million euros (about 61 billion kip) to safeguard the livelihoods of people, mainly in the southern provinces, who depend on the sound management of their natural environment, especially forests.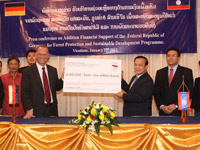 Mr Robert von Rimscha ( left ) and Mr Somdy Douangdy hold up a sign to indicate the size of the 6 million euro grant.
A funding handover ceremony was held in Vientiane on Friday between German Ambassador to Laos Mr Robert von Rimscha and Minister of Planning and Investment Mr Somdy Douangdy.
"With these significant new financial resources, we want to protect biodiversity, lessen climate change and thereby help millions of Lao people who need careful handling of nature so that their long term livelihood is not threatened," Mr von Rimscha said.
The funding, officially labelled "Sustainable development and protection of forests in southern Laos" comes from the German government through the Ministry of Economic Cooperation and Development.
The project details will be discussed over the next months and during the bilateral German-Lao government negotiations scheduled for May.
"This is another proud signal of our readiness to further strengthen and expand already excellent bilateral ties," said Mr von Rimscha.
Germany has become one of the main donors to Laos and is significantly contributing to socio-economic development and the improvement of livelihoods, especially through poverty eradication in poor regions of Laos and enhancing sustainable development, said Mr Somdy.
"We have signed several Financial Cooperation and Technical Agreements, under which the government of Germany commits to support socio-economic development in Laos," he said.
Mr Somdy pointed out that overall German bilateral development cooperation has more than doubled over the last five years, and that German private sector investment has also more than doubled over the last two five-year cycles.
People to people exchanges between both Laos and Germany are growing steadily with 27.8 percent more Germans coming to Laos and 12.4 percent more Lao people travelling to Germany last year, he added.
"We aware that bilateral cooperation between the Lao PDR and the Federal Republic of Germany has increased not only in terms of financial and technical support," he said.
This assistance contributes to socio-economic development towards reaching the Millennium Development Goals by 2015 and graduating from Least Developed Country status by 2020, he added.