Global Corruption and Climate Change
The impacts of climate change will be felt all over the world, in developed and developing countries alike. At risk are billions of dollars but more importantly the lives and livelihoods of millions of people. Corruption cannot be allowed to jeopardise efforts to combat climate change.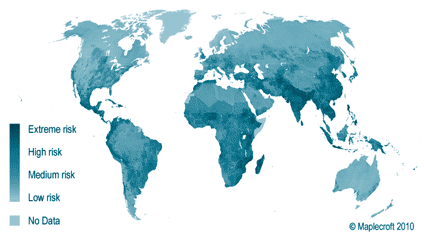 Many of those countries judged most vulnerable to the most visible effects of climate change– drought, flooding, storms or rising sea levels – are also countries where experts perceive high levels of corruption in public services. None of the 20 countries deemed most vulnerable to climate change score more than 3.6 on TI's Corruption Perceptions Index (CPI) indicating significant risks of corruption.
Almost 300 million people live in the five countries most vulnerable to climate change – Bangladesh, Honduras, Myanmar, Nicaragua, and Vietnam. By 2015, 375 million people could be affected by climate disasters annually.
Like corruption, climate change is a global problem that demands a global solution. Meeting this challenge will require unprecedented international cooperation both in the developed and developing world.
Transparency International's Global Corruption Report: Climate Change explores climate-related corruption risks and argues that a dramatic strengthening of governance mechanisms can reduce corruption risks and make climate change policy more effective and more successful.
Governments have pledged at least US $100 billion per year by 2020 to be spent on projects and incentives to meet commitments to reduce greenhouse gas emissions and safeguard against the effects of climate change.
How well this money is used and how these measures are managed will determine the effectiveness of global efforts to combat climate change. With so much at stake, it is imperative that all actors involved – governments, civil society, and the private sector – build transparency and accountability into the system from the start.