The report, which aggregates data from 415 individual forest carbon projects historically, was published Thursday by Forest Trends' Ecosystem Marketplace, a world-leading provider of news, data and analytics on environmental markets and investments in conservation. The report examines a variety of strategies for injecting financial resources into projects that save or plant forests that capture carbon. Carbon offsets from these projects averaged $9.2 per tonne of sequestered carbon in 2011, up from $4.6 per tonne in 2010.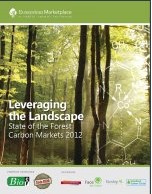 Companies seeking to offset emissions continue to be the dominant source of demand. At the same time, governments around the globe are stepping up to include forests in their regulatory emissions-reduction strategies. Transactions of credits developed under the United Nation's Clean Development Mechanism soared in 2011. Additionally, governments in locations like California, Australia, and Canada included forests in national or regional emissions reductions programs.
"Last year, market value was buoyed by a diverse landscape of actors, funding sources and projects – mostly in sectors where an emerging price on carbon is writ large," says Molly Peters-Stanley, Ecosystem Marketplace Carbon Program Manager. "Our findings demonstrate that continued growth requires both price signals and a wide array of actors innovating and financing forest carbon solutions."
The report found 18 million hectares impacted by carbon finance in 40 countries. The majority of projects were on private land but increasingly involved communities and smallholder landholders.
"To address the drivers of deforestation, we need to establish innovative ways of enabling forest conservation," says Katherine Hamilton, Ecosystem Marketplace Director. "As this type of investment gains increasing attention, transparency and access to information are critical for empowering the range of stakeholders and facilitating effective investments in reducing greenhouse gases."