Unready for REDD+? Lessons from Corruption in Ugandan Conservation Areas
This week, I published a short policy brief with the U4 Anti-Corruption Resource Centre at the Chr. Michelsen Institute (CMI) in Bergen, Norway. Entitled 'Unready for REDD+? Lessons from Corruption in Ugandan Conservation Areas', the brief reviews coverage of a recent scandal involving a US $37 million World Bank/GEF-funded programme. Known as the 'Protected Areas Management for Sustainable Use' (PAMSU) project, this initiative was designed to enhance both conservation efforts and ecotourism operations at Uganda's ten national parks and twelve forest/wildlife reserves between 1999 and 2009. The brief falls under the broader theme of 'REDD Integrity' at U4, which you can read more about here and here.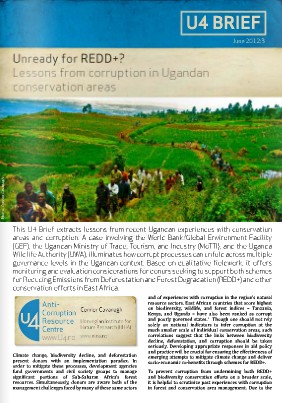 As both the scale and ambition of initiatives to realize REDD+ and other carbon offset forestry schemes increases in East Africa, so too does the risk of both corruption and gross mismanagement. To ensure that these initiatives are both sustainable and equitable, we must scrutinize experiences from similar efforts to bolster East African forest conservation in the region's recent history. Indeed, although carbon offset forestry is 'new', the tactics for achieving it, in practice, are often identical to conventional attempts to support forest management with international finances. Whether for biodiversity conservation or carbon offsetting, the establishment of forest reserves typically involves the transfer of funds from donors or investors to a local contractor (whether the state, an NGO, or a private company), which is tasked with enforcing a preservationist land use.  Thus, unless credits are generated through decentralized agroforestry schemes like Plan Vivo, carbon offset forestry in East Africa is likely to confront many of the same challenges faced by traditional conservation programmes since the colonial period. When sufficient monitoring and evaluation practices are not in place, these challenges include graft, embezzlement, fraud, and various other forms of both political and bureaucratic corruption.
In such cases, conservation initiatives can result in a disastrous 'quadruple-lose' situation for local communities, donors/investors, future taxpayers, and the environment. Ugandan media coverage, as well as the findings of a commission of inquiry headed by retired Supreme Court judge George Kanyeihamba, suggest that this was indeed the case with the PAMSU project. That said, I should note that these investigations are ongoing, that the veracity of these allegations have been disputed by various (albeit mostly implicated) actors, and that accusations of corruption frequently constitute a key strategy in the chess-game of Ugandan politics. Hence, the intent of this brief is not to make allegations, but to review allegations that have been made by various stakeholders in Uganda, and to anticipate the broader implications of these if proven to be accurate.
I will leave it to the reader to examine the gravity of the claims presented by Kanyeihamba's commission, which I review in the brief. In short, it appears that many of the PAMSU project's objectives, which included the construction of infrastructure at most of Uganda's national parks, were not realized. US$13 million was reportedly set aside for building staff housing at Uganda's twenty-two protected areas, but structures were ultimately constructed at only four and were reportedly of poor quality. Likewise, the Uganda Wildlife Authority allegedly authorized the payment of US$90,000 for fifteen solar panels, and raised no queries when only three of these were delivered. In another case, approximately US$3.4 million was reportedly earmarked for a "one man unit" in UWA, the mandate for which was unclear, and for whose activities officials could demonstrate no concrete outputs. The commission also heard that nonexistent "ghost employees" were paid for fraudulent expenses incurred, services rendered, and international travel undertaken. Finally, only one of nine planned boreholes was apparently constructed at Kidepo National Park, and the approximately US$190,000 earmarked for treeplanting at Rwenzori and Mount Elgon National Parks was deemed to yield "no value for money".
Further, it appears that much of the project's budget remains unaccounted for. In one particularly egregious case, Kanyeihamba's commission heard that a transfer from the Ministry of Tourism, Trade, and Industry, of two separate payments totalling approximately US$2.98 million, was registered as 'sent', but allegedly did not arrive at its intended recipient, the Uganda Wildlife Authority. When asked by the commission of inquiry whether he looked into these missing payments, UWA's ex-Executive Director responded that he "did try to find out [... but] never got a conclusive answer" from either the MoTTI or the Ministry of Finance, and simply dropped the issue. Similar irregularities were detected in testimony from the project's auditors and accountants. When asked by the commission why he had not conducted audits at any of PAMSU sites, for example, one of PAMSU's "independent auditors" responded by saying, simply, that "[w]e were told it was risky because such places have wild animals that eat people."
More recently, it has become clear that such concerns are not specific to forest conservation efforts in Uganda. Indeed, a remarkably similar scandal has emerged regarding the WWF-Tanzania's management of a Norwegian-funded REDD-readiness/carbon accounting project. Here, a large chunk of the project's US 2.5 million budget was allegedly siphoned off in inflated staff claims for "per diems" and other expenses. During the initial investigations, eight employees were fired, and WWF-Tanzania's country director resigned. As a further consequence, both Norway and the UK suspended funding to WWF-Tanzania pending a conclusive audit by Ernst & Young. If nothing else, the Tanzanian case demonstrates that the omnipresent spectre of corruption cannot be overcome by simply avoiding state conservation agencies and sub-contracting REDD projects to international NGOs.
Instead, what we face, here, is a structural problem with the ways in which funds are disbursed from international donors and investors to those contracted to implement REDD and other carbon offset forestry schemes. Other allegedly REDD-ready jurisdictions – such as the DR Congo, Liberia, Indonesia, and the Lao DPR – face governance challenges that are just as salient, if not more so, than those present in Uganda and Tanzania. Amidst the omnipresent risk of REDD-related corruption in these countries, I must conclude by asking the following: How serious are the architects of REDD+ about actually addressing concerns regarding permanence and leakage in the forest-based sequestration of carbon? Is REDD really a means of mitigating climate change, or is it primarily a symbolic mechanism for appearing to do so in ways that are politically expedient? If more robust monitoring and evaluation mechanisms are not adopted to ensure the security of resource flows under REDD, many analysts – including this one – will be tempted to adopt the latter conclusion.