Asia Pulp & Paper Pledges 'Sustainable Forest Management'
Asia Pulp & Paper has pledged that by 2020 all of its suppliers will be certified under the voluntary Indonesian sustainable forest management scheme.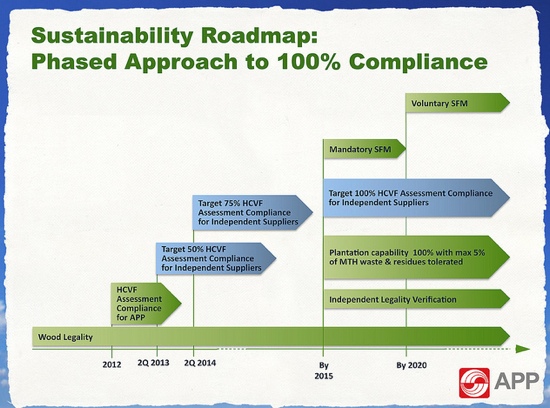 The Roadmap comes two weeks after the company, the world's third-largest pulp and paper producer, said it will suspend natural-forest clearing on its own plantations in Indonesia and give its suppliers until the end of 2014 to comply with its new higher standards of forest conservation. The company says it will conduct audits, led by APCS Chairman and Team Leader Loy Jones, to ensure its Sustainable Forest Management standards are being met, first at APP-owned plantations and then at independent pulpwood suppliers.
The Roadmap also pledges by 2015, APP will have the capacity to source 100 percent of its pulpwood for its mills from plantation wood, with a threshold of up to 5 percent for legally sourced wood waste/residue. It says APP will reduce carbon emissions in APP mills "in line with the national target" by 2020. Indonesian President Susilo Bambang Yudhoyono has said the country will reduce its greenhouse gas emissions by 26 percent by the end the decade.
In April, Danone, Xerox and a host of other companies pledged to suspend purchases from APP following a Greenpeace exposé on the paper company's practices.
Greenpeace released the results of a year-long investigation into APP, claiming that the company is systematically violating Indonesia's laws protecting ramin, an internationally protected tree species. Ramin was found on numerous occasions in the logyards of APP's Indah Kiat Perawang mill, waiting to be pulped, according to Greenpeace.
A number of major global companies including National Geographic, Barnes & Noble and Walmart were implicated as sourcing products from APP that contained rainforest fiber. Eight of the 11 companies named confirmed action to remove APP from their supply chains, Greenpeace said.
A month later, the Indonesian Ministry of Forestry cleared APP of all illegal logging charges, Jakarta Globe reported.
In 2011, Mattel directed suppliers to put a freeze on purchases from APP, following Greenpeace protests over the origin of its packaging.