Carbon forestry projects in the Philippines: potential and challenges: the case of the Arakan Forest Corridor forest carbon project
The proposed forest-carbon development project in the Arakan Forest Corridor initially was planned to participate in the carbon market under the United Nations Clean Development Mechanism afforestation/reforestation component, with a total area of 3000 ha. Currently, the proponent is exploring participation in the voluntary carbon market. The project will implement an agroforestation scheme to rehabilitate 216 ha of denuded/degraded portions within the Corridor. A 'community-based conservation' approach will be adopted. The representative people's organizations (Nagkahiusang Manobo sa Datu Ladayon, Pauangdig Lumadnong Panaghiusa sa Arakan, Tumandig Lumadnong Panaghiusa and Kiandang Farmer's Association), tribal and migrant communities of Arakan that cover the area signed a binding contract called a Conservation Agreement for partnership with the Philippine Eagle Foundation and a separate Rainforestation Agreement as individual or household landholders. Incentives will be provided to the participating people's organizations and to each landholder from innovative funding sources. The Adopt a Parcel of Hope campaign is the fundraising vehicle, seeking funding from the private sector through corporate social responsibility mechanisms for every hectare (or parcel).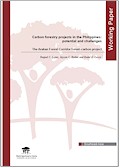 The proposed project can potentially contribute to mitigation efforts through carbon sequestration and storage. However, there are many challenges for project development and field implementation. Realistic work and budget plans need to be prepared and the technical and socio-economic aspects of the field work must be sustainable.
Smallholders' acceptance of the arrangements and continued cooperation is vital for the project's success. To ensure this, more ground work needs to be done to facilitate implementation in the field. A more pro-active project design must be developed using adaptive management theory and subsequently implemented. Adaptive management uses management intervention as a tool to strategically probe the functioning of an ecosystem.
| | |
| --- | --- |
| Title | Carbon forestry projects in the Philippines: potential and challenges: the case of the Arakan Forest Corridor forest carbon project |
| Author | Raquel C. Lopez, Jayson C. Ibañez and Rodel D. Lasco |
| Year | 2011 |
| Publisher | World Agroforestry Centre (ICRAF) Philippines |
| City of Publication | Los Banos, Philippines |
| Series Number | Working Paper no. 130. DOI: 10.5716/WP11055.PDF |
| Number of Pages | 50 |
| Call Number | WP0146-11 |
| Keywords | Forest carbon development, Arakan Forest Corridor, agroforestation, rainforestation farming, community-based conservation, project development approach, Adopt a Parcel of Hope campaign |
See similar publications: