Deforestation and REDD Facts & Figures
Primary forest loss
The following section is a quantitative look at primary forest loss.
More than seven million hectares of primary forest were lost on an annual basis between 2000 and 2005, the most recent period for which data is available from the U.N. Food and Agriculture Organization. Roughly half this loss occurred in Brazil, which is home to the largest extent of tropical forest in the world: the Amazon.
But FAO figures don't include destruction of primary forests in all countries. Notably excluded are Australia, Canada, Democratic Republic of Congo, India, and Venezuela; countries with substantial forestry industries that are logging large areas of old-growth forest (especially in the case of Australia, Canada, and Democratic Republic of Congo). These countries have not reported primary forest data since at least 1990.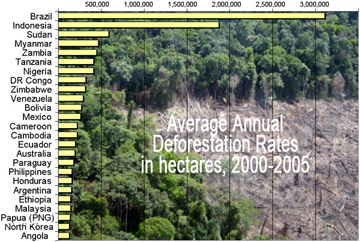 Among countries that have reported primary forest cover, Brazil leads the pack, followed distantly by Indonesia, Peru, Colombia, and Mexico. In terms of rate of primary forest loss, two countries lost more than half their primary forest cover between 2000 and 2005: Nigeria (55.7 percent) and Vietnam (54.5 percent). Cambodia (29.4 percent), Sri Lanka (15.2 percent), Malawi (14.9 percent), Indonesia (12.9 percent), North Korea (9.3 percent), and Nepal (9.1 percent) followed.
But while primarily forests continue to fall, plantations forests are expanding, especially in North America, Europe and China. Plantations help offset the loss of natural forests in terms of carbon sequestration and as a source for wood products [i.e. "no net forest loss"], but contribute to an overall decline in global biodiversity as single species plantations replace their biologically richer natural counterparts. While most of this conversion is occurring in the tropics, Tasmania (Australia) and the American Southeast — where old-growth forests are being razed to establish pulp, paper, and timber plantations — buck the trend.
Worst deforestation rate of primary forests, 2000-2005. All countries.
1
 
Nigeria
 
55.7%
2
 
Viet Nam
 
54.5%
3
 
Cambodia
 
29.4%
4
 
Sri Lanka
 
15.2%
5
 
Malawi
 
14.9%
6
 
Indonesia
 
12.9%
7
 
North Korea
 
9.3%
8
 
Nepal
 
9.1%
9
 
Panama
 
6.7%
10
 
Guatemala
 
6.4%
Highest average annual deforestation of primary forests, 2000-2005, by area. All countries [in ha]

1
 
Brazil
 
-3,466,000
2
 
Indonesia
 
-1,447,800
3
 
Russian Federation
 
-532,200
4
 
Mexico
 
-395,000
5
 
Papua New Guinea
 
-250,200
6
 
Peru
 
-224,600
7
 
United States of America
 
-215,200
8
 
Bolivia
 
-135,200
9
 
Sudan
 
-117,807
10
 
Nigeria
 
-82,000
Most primary forest cover, 2005. All countries
1
 
Brazil
 
415,890
2
 
Russian Federation
 
255,470
3
 
Canada
 
165,424
4
 
United States of America
 
104,182
5
 
Peru
 
61,065
6
 
Colombia
 
53,062
7
 
Indonesia
 
48,702
8
 
Mexico
 
32,850
9
 
Bolivia
 
29,360
10
 
Papua New Guinea
 
25,211
Most primary forest cover, 2005. Tropical countries
1
 
Brazil
 
415,890
2
 
Peru
 
61,065
3
 
Colombia
 
53,062
4
 
Indonesia
 
48,702
5
 
Mexico
 
32,850
6
 
Bolivia
 
29,360
7
 
Papua New Guinea
 
25,211
8
 
Suriname
 
14,214
9
 
Sudan
 
13,509
10
 
Madagascar
 
10,347
11
 
Guyana
 
9,314
12
 
French Guiana
 
7,701
13
 
Congo
 
7,464
14
 
Thailand
 
6,451
15
 
Ecuador
 
4,794