Korean, ASEAN ministers to adopt ...joint declaration on forests
Over 100 high-level officials from 11 countries participate in two-day special meeting to discuss forestation cooperation
Forestry ministers from Korea and member countries of the Association of Southeast Asian Nations are to announce the Seoul Declaration on Forestry on Thursday, which vows cooperation on forestry maintenance, as a result of the two-day special meeting held in Seoul.
The Special ASEAN-Korea Ministerial Meeting held from Aug. 29-30 was aimed at discussing concrete measures of the Korea-ASEAN Forestry Cooperation Agreement, which came into effect on Aug.5, as well as how to promote cooperation on forestation and enhance green growth in Asia, Seoul officials said.
The meeting also commemorated the inauguration of the Asian Forest Cooperation Organization slated for early next month. AFoCO will be the first international organization dealing with forest issues in Asia.
The Korean government took the initiative in creating AFoCO as part of its global commitment to low-carbon green growth when President Lee Myung-bak proposed the idea during the ASEAN-Korea Commemorative Summit on Jeju Island in June 2009. The ASEAN-Korea Summit in Indonesia in November 2011 gave official approval to AFoCO.
About 100 high-level officials from Korea and the ASEAN member countries ― Indonesia, Malaysia, Singapore, Thailand, Vietnam, Cambodia, Brunei, Myanmar, the Philippines and Laos ― participated in the two-day meeting.
On Wednesday, the first day of the session, participants discussed details to operate AFoCO and pledged to implement the agreement on forestry cooperation.
On the eve of the special conference, the participating officials held a board meeting and discussed ways to appoint a secretary-general of AFoCO and form the organization's secretariat and governing council.
On the last day of the session, participants are to exchange views on how to reinforce forestry management as well as announce the ministerial statement.
The Seoul Declaration on Forestry is expected to focus on strengthening cooperation between member countries through the Korea-ASEAN Forestry Cooperation Agreement and strategies to share Korea's low-carbon and green growth technologies for further cooperation beyond ASEAN, to all of Asia, officials said.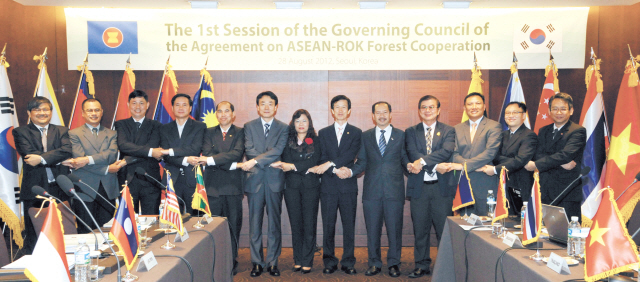 Korea Forest Service Minister Lee Don-koo (sixth from right) joins hands with participants after the 1st Session of the Governing Council of the Agreement on ASEAN-Korea Forest Cooperation at Hotel Shilla in central Seoul on Tuesday. (@ Photo by KFS)
"About 40 percent of the forests and living species in Asia are found in the ten ASEAN countries. They hold the key to maintaining biodiversity and prevent global warming. Establishment of AFoCO signifies the start of the difficult yet meaningful journey," said Lee Don-koo, Korea Forestry Service Minister, in a recent interview.
AFoCO, which will begin with 11 member countries, will further expand into a bigger international organization to include other northeast and central Asian countries.
"AFoCO, a multilateral regional organization, will be a permanent and legally independent entity based on a binding agreement among Asian countries. Once established in Seoul, the organization will seek to expand its members to Central Asian and Northeast Asian countries during the next two years," said Lee.
"The KFS has started to expand its international relations with countries in South America as well as Africa. The KFS will strengthen bilateral cooperation with partner countries, reinforce policies on subsidies for the private sector, and provide consulting and relevant investment information to the private sector to encourage overseas forest investment."
The primary goals of AFoCO include: enhancing regional cooperation in forestry to help member countries build their capacity to cope with regional environmental issues; promoting the conservation and utilization of forests and forestry in an environmentally friendly and economically sustainable manner in the forest-dependent Asian countries; and pooling Korea's forestry expertise and technology to jointly promote green growth in the Asian region.
Through AFoCO, Korea will work to help prevent deforestation in Southeast Asia while also offering its technology and funding to help make new woodland there. Korea will shoulder 90 percent of AFoCO's expenses, according to the KFS.
"We will share the lessons learned and experiences of successful forest rehabilitation in Korea and also implement various programs in the areas of climate change and biodiversity conservation, combating desertification, human resources development, and transfer of related technology," Lee said.
"The KFS will lead successful international cooperation by developing strong organizational capacity with professional human resources and new initiatives."
By Park Min-young  (claire@heraldcorp.com)