Making Forestry Work for the Poor: Assessment of the Contribution of Forestry to Poverty Alleviation in Asia and the Pacific
Since the launch of the Millennium Development Goals (MDGs) over a decade ago, concerted efforts have been made around the world to improve the contribution of different economic sectors to poverty eradication. In the Asia-Pacific region, the forestry sector is of great importance in this respect due to the elevated rates of poverty prevalent in highly forested areas. Obstacles to reducing poverty through forestry are, however, many: forests areas are often far from markets and poor people frequently lack marketing knowledge, financial capital and/or networks necessary to reap benefits from forest related activities. Unstable land and resource tenure also continue to hamper efforts to improve prospects for rural people and authorities have often been reluctant to devolve rights to the local level.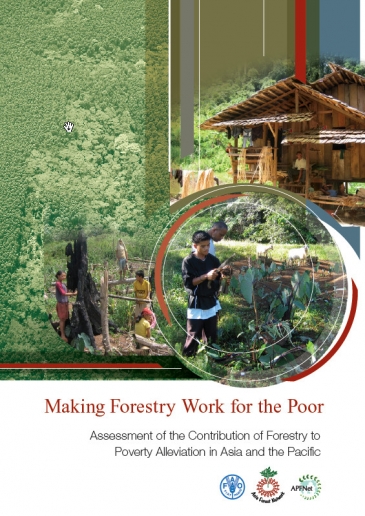 As economic growth in the Asia-Pacific region continues apace, efforts to ensure that the poorest are not left behind must be redoubled. Rates of poverty remain unacceptably high in significant areas of many countries in the region and, although jobs in forestry do result from economic expansion, environmental degradation and social upheaval are common side effects. Health and safety issues may also arise, while the so called 'trickle down' effect may never materialise. More recently, payments for ecosystem services, especially climate change related payment mechanisms, have attracted much attention in forestry, but debate remains in relation to their potential impacts on poverty.
This publication represents a key output of the project and includes eleven reports respectively outlining the contribution of forestry to poverty alleviation in Bhutan, Cambodia, China, India, Indonesia, Lao PDR, Nepal, Papua New Guinea, Philippines, Thailand and Viet Nam. The reports draw particular attention to the need for genuine allocation of rights to local levels, combined with measures to support forest management and livelihood development. Without such concessions, poverty reduction and sustainable forest management goals may remain elusive.