PG&E carbon offsets come from protected forests
California's largest utility promises its customers green salvation through its ClimateSmart program.
For every bit of energy a Pacific Gas & Electric ratepayer uses - from turning on a vacuum cleaner to powering up a computer or heating up an oven - a little part of a tree or forest is saved to erase the carbon sins of the customer. The voluntary program costs participants about $60 a year.
But the company isn't telling its customers one crucial fact: Those forests were purchased years ago by a Virginia conservation group that used nearly $50 million in loans and grants from California taxpayers. The Conservation Fund then sold PG&E carbon credits on land it had purchased for preservation and selective logging.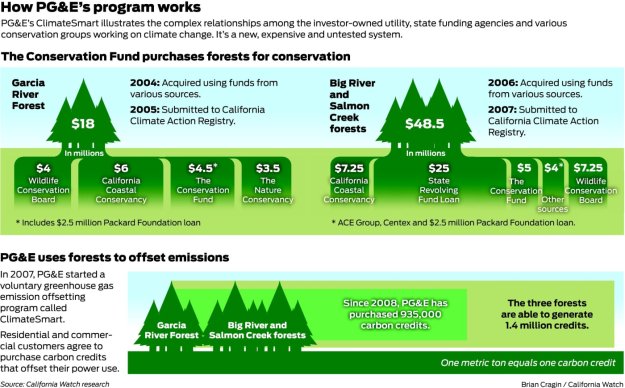 The group argues that it could harvest far more trees, but is choosing to preserve them. And the saved trees, which sequester carbon, are worth something it can sell: carbon credits to PG&E and others.
As a result, thousands of PG&E customers are effectively paying twice for the same Mendocino County forests.
The ClimateSmart program highlights the complex and murky relationships among big business, state regulators and conservation groups working on climate change - a relatively new and untested system in which a huge amount of money is traded without much public scrutiny.
ClimateSmart, which has operated since May 2007, has more than 30,000 enrolled residential and business customers, including the American Lung Association and Peet's Coffee & Tea. Participants pay a surcharge based on their power usage. The utility said it has collected $8.6 million so far.
"We invest in these projects on behalf of our customers," said Kathleen Romans, a spokeswoman for PG&E. "We're procuring something for them. Their funds come to us, and we're investing, under contract, in projects that provide co-benefits - healthier habitat for wildlife, watersheds and native plants."
The PG&E marketing campaign for ClimateSmart includes promotional inserts in power bills, direct mailings, newspaper and radio ads, and a website. The company is authorized by state regulators to spend $16.3 million marketing and running the program.
Some see little impact
To some environmentalists, the program seems designed to assuage the guilt of polluters, and little else.
"Indulgences didn't work in the Middle Ages, and they don't work now," said Rolf Skar with Greenpeace USA.
In its efforts to sequester carbon, PG&E has invested in the timber-saving programs, two of which were funded by California taxpayers. The utility also has invested in California Bioenergy, a company that captures greenhouse gases that emanate from cow manure, and a program that collects and destroys potent ozone-destroying gases from appliances.
But the forestland that ClimateSmart is saving to sequester carbon has long been protected by environmental programs.
In 2004, a large land trust, the Conservation Fund, bought nearly 24,000 acres of forestland in Mendocino County.
The property, known as the Garcia River Forest, is in California's Coast Range almost 10 miles northeast of Point Arena. Redwoods dot the landscape like bristles on a brush.
In 2006, the Conservation Fund acquired two more properties: 16,000 acres of the Big River and Salmon Creek forests, which are recognized by state officials and the Conservation Fund as one conservation project.
The total purchase price for both projects was $66.5 million. The state provided nearly $50 million through taxpayer-funded bond money, including a $25 million loan, while the Conservation Fund and the Nature Conservancy, another national conservation group, provided $10.5 million. Private donors, including the charitable arms of housing developers such as Centex and the ACE Group, donated the rest.
Making money off land
The land is not just sitting idle. In 2004, the Conservation Fund, which is based in Arlington, Va., convinced the state that the forest should become a pilot project that not only would restore and conserve the forests but also make a little money.
It is allowed to log and harvest the redwoods on the property in an environmentally friendly way and sell the timber commercially. The group also promised to put legal restrictions on the land to keep it out of the hands of housing developers and agriculture forever.
"We wanted to be a model for revenue-producing conservation projects," said Chris Kelly, the Conservation Fund's California program director.
Kelly said any surplus revenue - money not used to manage the land, repair roads, restore bridges, pay property taxes or employment costs or repay loans - will be split with donors, including the state. But whether a surplus will be achieved is unclear. So far, it hasn't happened.
In 2005, the group saw another opportunity for making money on the timber tracts: carbon offsets, also known as carbon credits. It put its carbon stored in forests up for sale as California and other governments were increasingly interested in a market for carbon, a cap-and-trade system that could be used to offset greenhouse gas emissions.
Price not disclosed
Since 2008, PG&E has bought almost 935,000 carbon credits for its ClimateSmart program, with each credit equal to 1 metric ton of carbon. The state Public Utilities Commission allowed the utility to buy carbon offsets for an average of $9.71 per metric ton, which would indicate it has bought more than $9 million worth of credits. Romans, the PG&E spokeswoman, would not reveal the specific price the utility paid.
Kelly said the Mendocino County forests are capable of generating more than 1.4 million credits. He would not name other buyers of the Conservation Fund's timber credits but said they included utilities, investment firms and traders.
PG&E touts the program as a "first of its kind" and a means for PG&E to work with its customers to "make a real difference in preserving the health and natural beauty of the planet for ourselves and future generations."
'Waste of money'
Others aren't so sure.
"We've said repeatedly that the ClimateSmart program is a huge waste of money from the customer's standpoint," said Mindy Spatt, a spokeswoman for The Utility Reform Network, a PG&E watchdog, because the property was bought using money from the state.
And although some people contend the credits may be "fake" because the forests already had been protected, Kelly said they were critical for the forests' survival. Without the money, he said, they would have been forced to cut down more trees.
PG&E's Romans agreed, saying the money the utility paid to the Conservation Fund was essential for keeping the trees safe from overharvesting.
But the Conservation Fund didn't need PG&E's money for that. When it requested nearly $50 million from the state to buy the land, in 2004 and 2006, the group had promised to provide public access, protect the watersheds and rivers, and "restrict harvest" volumes of the trees, according to documents from the California Coastal Conservancy and Wildlife Conservation Board.
Protecting forests
Kevin Bundy, a senior attorney with the Center for Biological Diversity, said the state's justification for granting the bond money includes "the express purpose of protecting and restoring" the forests.
He said the Conservation Fund argues it has a right to sell carbon credits from the forests under a forest-management protocol, written after the sale, allowing it to clear-cut the property to its absolute legal limit.
But Bundy said a conservation group threatening to harvest a forest that it has acquired for preservation "appears more than a little suspicious."
State officials don't seem concerned about the situation. Dave Means, assistant executive director of the state Wildlife Conservation Board, said his agency provided the money at a time when carbon credits weren't on anybody's radar.
Dick Wayman, spokesman for the state Coastal Conservancy, added: "This type of revenue generation (is) entirely consistent with the purposes of the acquisitions and the related authorizations for state funding."
California Watch, the state's largest investigative reporting team, was founded by the Center for Investigative Reporting. Contact the writer at srust@californiawatch.org.