Tenure in REDD: Start-point or afterthought?
Every month we highlight a new, groundbreaking or bestselling IIED research outcome. This month we feature a ground breaking IIED publication Tenure in REDD: Start-point or afterthought? 
As new mechanisms for 'reducing emissions from deforestation and forest degradation' (REDD) are being negotiated in international climate change talks, resource tenure must be given greater attention.
Tenure over land and trees – the systems of rights, rules, institutions and processes regulating their access and use – will affect the extent to which REDD and related strategies will benefit, or marginalise, forest communities.
Since it's release in May 2009 this report has promoted much debate on the issue. Drawing on experience from seven rainforest countries (Brazil, Cameroon, Democratic Republic of Congo, Guyana, Indonesia, Malaysia and Papua New Guinea), the report develops a typology of tenure regimes across countries, explores tenure issues in each country, and identifies key challenges to be addressed if REDD is to have equitable and sustainable impact.
One of IIED's Top 15 most downloaded resources, Tenure in REDD has attracted interest worldwide from the academic community to donors to on the ground practitioners.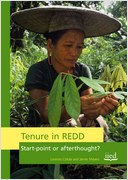 Lorenzo Cotula, James Mayers
2009, ISBN 978-1-84369-736-7, 67pp
NOW 20% OFF at just US$20.00 Purchase Here
Or Download