Timber traffickers targeted by forest management body
HA NOI — The forest management sector is planning stricter measures to fight timber trafficking following a recent spate of illegal activities.
In a meeting in the capital on Tuesday, the Director of the Ministry of Agriculture and Rural Development (MARD)'s Department of Forest Management, Nguyen Huu Dung, said that the country annually lost nearly 32,000ha of forest due to informal deforestation.
This year alone, more than 1,960ha of forest had been destroyed, an increase by 15 per cent compared to last year.
Hot spots included northern Bac Kan Province alongside Central Highlands provinces and coastal southern provinces, he said.
"Timber traffickers utilise sophisticated measures in transporting timber," he added.
Early last month, forest managers apprehended 15 train coaches transporting different kinds of rare timber from the south to Gia Lam Station in Ha Noi and northern Bac Ninh Province's Tu Son District.
On December 7, an official from central Nghe An Province's Pu Huong Forest Management Unit was charged with abetting truck loads of timber headed from Tuong Duong District to Quy Hop District. The trucks involved eventually overturned, killing 10 people and injuring four others.
Pham Van Cong, a representative from the Ministry of Public Security, said that some forest managers assisted in forest destruction due to low and insufficient salaries.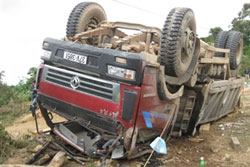 The picture shows a wood hauling truck overturned on the side of a hill in the Con Cuong District of Nghe An Province after its brakes failed last Wednesday. At least 10 people were killed and five others injured in the accident.—VNA/VNS Photo Nguyen Van Nhat
To resolve the problem, MARD should re-adjust salaries to ensure worker satisfaction, he said.
Ha Cong Tuan, deputy director of the Viet Nam Administration of Forestry, said that in the future, more investigations would be carried out to bust traffic rings.
Meanwhile, Minister of Agriculture and Rural Development Cao Duc Phat called for better management of timber processing and border trading.
Timber imported from Cambodia and Laos will be required to obtain certificates from forest management offices to pass through Viet Nam's border gates.
The ministry would use State funds to support organisations and individuals in preventing illegal deforestation, Phat said.
During the dry season next year, the central steering committee on forestry will set up six inspection teams to regulate forestry management and fire prevention in cities and provinces. — VNS