Central-East European Regional Office – EFICEEC launched
The development of EFI Regional Offices continues. The latest office to open its doors is the Central-East European Regional Office – EFICEEC in Vienna, Austria. The EFICEEC will strengthen implementation of the EFI's strategy 2022; and it is foreseen as a catalyst to foster networking, research, information, advocacy, and capacity building on a regional scale in the Central-East Europe. The launch of the EFICEEC was held on 12 April at the University of Natural Resources and Applied Sciences, Vienna (BOKU). More than 60 distinguished guests joined the opening ceremony.
EFICEEC receives base-funding from the BOKU University, the Austrian Ministry of Agriculture, Forestry, Environment, and Water Management, the Austrian Ministry of Science and Research, and the City of Vienna. EFICEEC Regional Office is located in Vienna and hosted by the BOKU University and it has a network of 11 core partners and 17 network partners from 11 countries. In addition to providing funding, core partners are committing personnel and infrastructure to EFICEEC.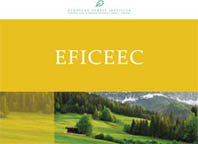 Following the activities from EFI's Project Centre INNOFORCE, EFI's Regional office EFICEEC is expanded towards an inter-disciplinary focal point that builds on three work areas:
1. "Forest sector policy and economics" continues activities in forest policy analysis, innovation research, and sustainability research.
2. "Land Use Change" is dedicated to land use modelling with special regard to climate change and bio-energy.
3. "Forest Ecosystem Management" is dealing with forest management under changing environmental and societal conditions with special focus on mountain forests.