Energieholzpreise: Achtung bei "günstigen Angeboten"!
Was bedeutet ein Preisangebot von 60.- EUR pro to atro für Energieholz? Was kostet dann der Festmeter des gleichen Energieholzes?
Ein Beispiel:
Ein Waldbesitzer hat für den Verkauf von Energieholz zwei verschiedene Kaufanbote vorliegen:
Kaufanbot von Händler A: 60.-/to atro EUR
Kaufanbot von Händler B: 33.-/fm EUR
Beide Händler liefern an den gleichen Abnehmer und für beide gilt im Werk das atro Gewicht bei der Übernahme als Verrechnungsbasis.
Welches Anbot soll der Waldbesitzer annehmen? Er entscheidet sich schließlich für das Anbot B und erhält von seinem Händler folgende Abrechnung:
Laut Werksabmaß 21,8 fm x  33.-/fm EUR = 719,4  EUR
Wie kommt der Händler B auf diese Art der Abrechnung für den Waldbesitzer?
Das Werksabmaß hat 12 to atro ergeben, daher errechnet sich der Erlös des Händlers B:
12 to atro x 60.-/to EUR atro = 720.- EUR
Daraufhin hat der Händler B einfach seinen Erlös von 720.- EUR durch den gebotenen Preis von 33.-/fm EUR dividiert und hat so die Festmetermenge von 21,8 fm ermittelt. Nach dieser Methode könnte er theoretisch auch 40.- EUR für den fm anbieten und wieder rechnen:
720.- EUR : 40.-/fm EUR = 18 fm
Und die Abrechnung für den Waldbesitzer würde dann lauten:
Laut Werksabma? 18 fm x 40.- EUR = 720.- EUR
Was hier passiert, ist offensichtlich: Durch unlautere hohe Anbote auf Festmeterbasis wird der Waldbesitzer getäuscht und verkauft vermeintlich ausgezeichnet. In Wirklichkeit wird aber seine Festmetermenge unglaublich manipuliert.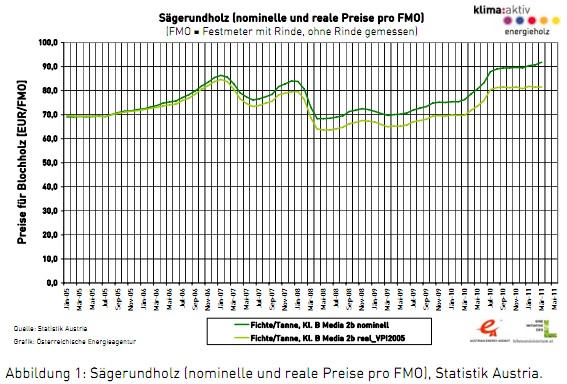 Wenn Sie mehr über die Entwicklung der (Energie-)Holzpreise in Österreich erfahren wollen, dann folgen Sie bitte diesem Link ►