September 2012 - a note by the Editor of ForestIndustries.EU: We wrote this article more than three years ago. Many significant events happened since then and a huge amount of new knowledge has been collected by the global community. But two main facts we stated back in 2010 had been proofed rock steady and all right: conservation should NOT be the main deal of any program for forests and illegal logging is NOT the main source of deforestation - recently published knowledge proves us right: Evidence-based Conservation, by Terry C.H. Sunderland (CIFOR Article here) and Agriculture Is the Direct Driver for Worldwide Deforestation (PDF here or here.
Some interesting analyses of EU-FLEGT/VPA program can be read here: A comparison of FLEGT VPAs and their impact
---
Stricter rules on timber sold in the EU are needed to combat illegal logging - the main cause of deforestation - says a legislative report by Caroline LUCAS (Greens/EFA, UK) adopted by the European Parliament...read more►
... so far the rationale of the EU..
BUT...
Is there really a chance to fight illegal logging?
Is fighting illegal logging to become a byword for fighting deforestation?
And the mother of all questions: Is the term "illegal logging" defined fairly well?
The due diligence proposal within the EU FLEGT program – a short reflection of pitfalls to be covered
Definition of "illegal logging":
EU: "Illegal logging takes place when timber is harvested, processed or traded in violation of national laws applicable in the country of harvest."
"....."
EU: "Illegal logging is a major contributor to global deforestation which causes enormous environmental damage. Deforestation is responsible for approximately 20% of global emissions of greenhouse gasses (more than the total global emissions from the transport sector) and is a major cause for global losses of biodiversity."
ForestIndustries.EU: Is combating of "illegal logging" the same as of fighting deforestation?
Keep in mind: Just a small amount of deforestation is caused by illegal logging. As well as not every legal logging activity is a warrantor for sustainable forest management
Note by the Editor: in November 2010 EU has started to think about this issue - read further here...

EU: "Illegal logging is one of the most important direct drivers of deforestation…"
ForestIndustries.EU: Land use change is one of the most important direct drivers of deforestation. Slash-and-burn or utilizing the slashed timber at local housing for cooking purposes is the mostly used treatment. Such "illegal logging" practices can not be fought by EU timber regulations…
"Nearly 80 percent of land deforested in the Amazon from 1996-2006 is now used for cattle pasture, according to a report released today by Greenpeace at the World Social Forum in Belem, Brazil..."
Agriculture drives the global deforestaton...
We doubt that any of this illegally logged timber has crossed country border of Brazil, because Beef was the driver for illegal logging - by sure it wasn't timber sales
There is stats published by UNFCCC in 2007 - Wood extraction for commercial timber (legal and illegal) counts for 14% of total deforestation & degradation activities - extract the legal part plus extract those parts of illegal timber not going to international sales - so what remains?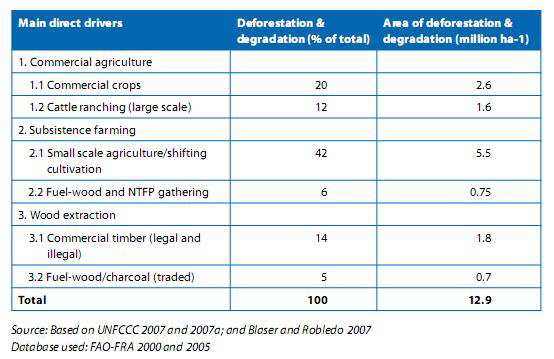 EU: "The low cost timber products that illegal logging generates…"
ForestIndustries.EU: This is just an assumption – there is no evidence of proof on that! And even if it is true, those low cost timber products would be utilized at domestic (local) markets in a large extend – so EU can not combat this issue.
EU: "The proposal, in line with the FLEGT Action Plan, focuses only on the question of legality, and does not address sustainability. However, in many countries forest legislation is based on the premise of sustainable forest management and therefore legality is not totally distinct from sustainability"
ForestIndustries.EU: How is this paragraph coherent with the above lines?
EU: "In addition, given that this proposal aims at encouraging better law enforcement and governance it would represent a major step along the road to sustainability particularly in countries affected by illegal logging."
ForestIndustries.EU: This in turn implies the assumption that forest laws in the countries of origin are in good condition regarding environmental and social aspects; but what if laws of those countries are bad or simply missing?
Shouldn't the initiative be named FLEEGT - ENCHANCEMENT and ENFORCEMENT?
1. What is illegal logging?
EU: Illegal logging is the harvest, transportation, sale or purchase of timber in violation of national laws. The harvesting procedure itself may be illegal, including using corrupt means to gain access to forests; extraction without permission or from a protected area; the cutting of protected species; or the extraction of timber in excess of agreed limits. Offences can also occur whilst materials are being transported, such as illegal processing and export; fraudulent declaration to customs; and evasion of tax and other charges."
ForestIndustries.EU: There seems to be a substantial misunderstanding at the EU commission regarding the terms "illegal logging" and sustainable (economic, ecological and social) utilization of timber resources. EU is mixing both terms but doesn't come up with a definition of "illegal logging" which is incorporating all issues of "illegal logging" like deforestation (as mentioned within EU proposal). As long as this is not fixed, EC will proof it selves as inconsistent.
EU: "Operators have to show due diligence. In other words, they need to ensure legality to their best ability. Although lower as a standard, due diligence is not exercised in a haphazard manner but calls for concrete steps to be taken. It takes the form of ascertaining the negative, the absence of any doubts as regards legality. Operators are required to demonstrate due diligence on the basis of a properly documented and effectively audited system of procedures and measures (due diligence system) which will enable legality to be reasonably assured. It essentially relies on knowing the product placed on the market in terms of species, volume, value and origin in order to understand any issues relevant for its legality in order to be able to mitigate possible risks."
ForestIndustries.EU: As long as due diligence definition will stay as weak as that, every outsider like the well-known green NGO's will and can blame every operator not to ensure legality
EU: "What is "illegal" depends on national laws. In order to avoid any discriminatory or unfair definition the country where the timber was harvested should be the basis for any such definition. In view of the environmental, economic and social impacts of illegal logging and related trade and in line with the objectives of this Regulation, the focus is on those national laws applicable to forest management, timber harvesting and timber trade."
ForestIndustries.EU: Assumptions that all (forest) laws of target countries are strong in taking care of economic, ecological and social aspects of timber logging and trade are not facing up to reality.
Summary

by

ForestIndustries.EU:
Explanatory statements of the EU regarding FLEGT should exclude any allusion to deforestation, low cost timber products and reduction of CO2 emissions.
Current definition of FLEGT is based on legality regarding national legislation only therefore any FLEGT paper should stay with that and should NOT be suggestive of fighting environmental issues – otherwise EU proves it selves to ring hollow

FLEGT is currently not addressing the issue of "illegally rised timber" – that is timber that might be grown but legally harvested on illegally cleared land; so this is very hard to combat – so therefore EU should have a clear statement that FLEGT is NOT addressing this issue

Weak national legislation regarding timber logging and trade issues is NOT faced at the due diligence proposal – ENCHANCEMENT of national legislation should also be an objective of the FLEGT program

Due diligence definition needs to be narrowed in such a case that NGO's can't blame operators by raising nebulous doubts

Do the right things and get the things done right!
Everybody who want's to dig deeper may read further here: The European Union (EU) isn't able (or willing) to get the idea of Forests issues...
► Do you want to know why the EU is risking its credibility?
FLEGT - a short reflection