Japan revises its forest law to boost carbon sequestration
Japan has brought about changes in its Forests and Forestry Basic Plan under Forests Act (1964) with specific focus on carbon sequestration. A press release by the Ministry of Environment stated that the revision shave been made keeping in mind the diverse demands that forests are expected to meet. The plan is to be reviewed every five years. The release stated that the New Forest and Forestry Basic Plan will ensure uptake of carbon dioxide by forests through forest conservation and proper maintenance of the forest.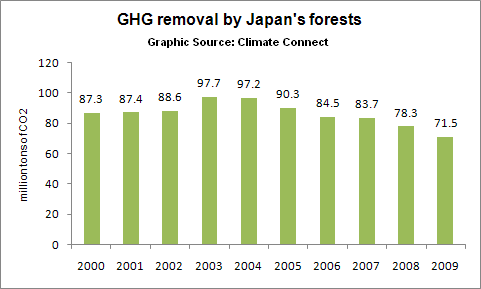 The new plan seeks to boost the area under forest cover thrust on regenartion of existing forests and carrying out afforestation activities.In order to support the objective research for forest regeneration, technology development and dissemination will be promoted. The plan states that Japan aims to increase the area of its multilayered forests from 1 million ha in 2010 to 1.2 million ha by 2015.
Japan is a supporter of REDD Programme of the UN and during its sixth Policy Board meeting on 21-22 March 2011 had made its first funding commitment to the Programme of US$3 million. The REDD Programme seeks to reduce CO2 concentration in the atmosphere by holding the carbon in forests located in various developing countries.
Keywords: Japan, Forestry Law, Sequestration Forests
Publishing Author: Climate Connect Newsdesk
For more information on this article kindly email: info@climate-connect.co.uk